Richard Thompson Songbook
The Richard Thompson Songbook Volume One:
A Heart Needs A Home
A Man In Need
Back Street Slide
Bad News Is All The Wind Can Carry
Beat The Retreat
Did She Jump Or Was She Pushed?
Dimming Of The Day
Don't Let A Thief Steal Into Your Heart
Down Where The Drunkards Roll
For Shame Of Doing Wrong
Genesis Hall
Hand Of Kindness
Has He Got A Friend For Me?
Hokey Pokey
How I Wanted To
How Many Times
I Want To See The Bright Lights Tonight
I'll Regret It All In The Morning
It's Just The Motion
Jet Plane In A Rocking Chair
Meet On The Ledge
Never Again
Night Comes In
Nobody's Wedding
Now Be Thankful
Pavanne
Poor Will And The Jolly Hangman
Roll Over Vaughn Williams
Shoot Out The Lights
Sloth
Smiffy's Glass Eye
Strange Affair
Streets Of Paradise
Tale In Hard Time
The Angels Took My Racehorse Away
The Calvary Cross
The End Of The Rainbow
The Great Valerio
The Little Beggar Girl
The New St George
The Old Changing Way
The Poor Ditching Boy
The Sun Never Shines On The Poor
The Wrong Heartbeat
Two Left Feet
Walking On A Wire
Wall Of Death
Wheely Down
When I Get To The Border
Withered And Died
Woman Or A Man

The Richard Thompson Songbook Volume Two:
UK + International Customers.
Download sheet music for Richard Thompson. Choose from Richard Thompson sheet music for such popular songs as Beeswing, Dimming of the Day, and Persuasion. Print instantly, or sync to our free PC, web and mobile apps.
1952 Vincent Black Lightning
A Bone Through Her Nose
Al Bowlly's In Heaven
Beeswing
Big Chimney
Borrowed Time
Can't Win
Cold Kisses
Devonside
Don't Sit On My Jimmy Shands
Don't Tempt Me
From Galway To Graceland
Ghosts In The Wind
Gypsy Love Songs
Hide It Away
I Feel So Good
I Misunderstood
I Still Dream
Jennie
Jerusalem On The Jukebox
Keep Your Distance
Killerman Gold Posse
King Of Bohemia
Last Shift
Lotteryland
Madonna's Wedding
MGB GT
Mingus Eyes
Missie How You Let Me Down
My Daddy Is A Mummy
Nearly In Love
Oh I Swear
Peppermint Rock
Persuasion
Pharaoh
Put It There Pal
Razor Dance
Read About Love
Sam Jones
She Cut Off Her Long Silken Hair
She Twists The Knife Again
Small Town Romance
Taking My Business Elsewhere
Tear Stained Letter
The Ghost Of You Walks
The Way That It Shows
Time To Ring Some Changes
Turning Of The Tide
Valerie
Waltzing's For Dreamers
When The Spell Is Broken
Why Must I Plead

The Richard Thompson Songbook Volume Three:
THE RICHARD THOMPSON SONGBOOK VOLUME 3. Please.SELECT REGION. below (UK, EU, World) BEFORE.Add to Cart. Please note: Delivery will be 2nd Class Packet Post in the UK and by standard airmail elsewhere. Terms and Conditions Returns: Any unopened item can be returned for any reason within 30 days of receipt of item. Refunds will be credited to. Singer-songwriter Richard Thompson was definitely there, and in his new memoir he supports his case by lack of pretense to remember it all. Some books feel like sitting next to the author on an airplane for 12 hours; Beeswing (buy now) is more like sitting next to the author at dinner.
A Love You Can't Survive
A Solitary Life
Baby Don't Know What To Do With Herself
Bad Monkey
Bank Vault In Heaven
Bathsheba Smiles
Burns Supper
Cooksferry Queen
Crawl Back (Under My Stone)
Dad's Gonna Kill Me
Dry My Tears And Move On
Easy There, Steady Now
First Breath
For The Sake Of Mary
For Who's Sake?
Francesca
Gethsemane
God Loves A Drunk
Guns Are The Tongues
Happy Days And Auld Lang Syne
Hard On Me
Hope You Like The New Me
How Does Your Garden Grow?
How Will I Ever Be Simple Again
I Ride In Your Slipstream
I'll Never Give It Up
I'll Tag Along
Jealous Words
Johnny's Far Away
Let It Blow
Mascara Tears
Mr Stupid
Ms Patsy
Needle and Thread
Old Thames Side
One Door Opens
Outside Of The Inside
Poppy-Red
Row Boys Row
She Said It Was Destiny
She Sang Angels To Rest
Sibella
Sights And Sounds Of London Town
Sneaky Boy
Sunset Song
Take Care The Road You Choose
That's All, Amen, Close The Door
The Boys Of Mutton Street
Too Late To Come Fishing
Uninhabited Man
Walking The Long Miles Home
When We Were Boys At School
Woods Of Darney
Word Unspoken, Sight Unseen
The songbooks are spiral-bound, and lie flat. They also have a 'false' spine.
Some songs, not all are rendered in TAB.
Here is the Easy Chords version of Richard Thompson's 'I Feel So Good.'
I have been playing it in standard tuning: nothing fancy, just banging
the chords with a strummed rhythm. I discovered only yesterday that
Thompson plays it in dropped-D tuning with a capo at the fourth fret of
his guitar, at least in his solo acoustic version. I've just begun to
play around with it in his tuning; a number of things I hear on the cut
on RUMOUR AND SIGH fall into place naturally, such as the bass line and
the melodic hook that opens the song. I have not made any serious
The song has a straightforward structure. On the record it opens with a
repeating groove (one bar in C, two beats in A minor, two beats in F) over which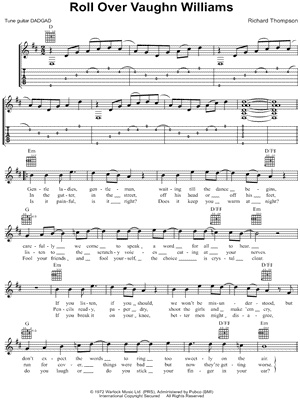 the hook plays. (Playing solo, Thompson just strums a straight-eights
ONE-two-three ONE-two-three ONE-two groove in C on the fourth and fifth
strings.) After four bars of the groove come the first verse, the
chorus, four bars of groove, the second verse, the chorus, and the
bridge. Then comes an instrumental half verse which follows the chords
of the regular verse from 'I'm old enough to sin etc.' on. One more
chorus is sung, which ends not by resolving to C at the last word, but
to A minor instead, and the last line of the chorus is repeated. The
song ends with the groove, and he hook, played over and over again, and
the words 'break somebody's heart' sung over it, over and over again,
until the sound man fades it out or the singer gets bored and finishes
(Richard Thompson)
I
[
C
]
feel so good I'm going to
[
Am
]
break somebody's
[
F
]
heart to
[
C
]
night.
I feel so good I'm going to
[
Am
]
take someone a
[
F
]
part to
[
C
]
night.
They
[
Bb
]
put me in
[
F
]
jail for my deviant ways,
[
Bb
]
Two years,
[
F
]
seven months, and sixteen days.
Now I'm
[
Bb
]
back on the
[
F
]
street in a purple haze
Chorus:
I feel so good I'm going to
[
G
]
break somebody's heart to
[
C
]
night.
I feel so good I'm going to make somebody's day tonight.
I feel so good I'm going to make somebody pay tonight.
I'm old enough to sin, but I'm too young to vote.
But I've got a suitcase full of fifty-pound notes
And a half-naked woman with her tongue down my throat
Bridge:
[
Ab
]
They've made me pay for the things I've
[
F
]
done.
[
Ab
]
Now it's my turn to have all the
[
F
]
fun
I feel so good I'me going to
[
G
]
break somebody's heart to
[
C
]
night.
Richard Thompson Song Books
Important: The song above is NOT stored on the Chordie server. The original song is hosted at www.azchords.com. Chordie works as a search engine and provides on-the-fly formatting. Chordie does not index songs against artists'/composers' will. To remove this song please click here.
Text color:
Chord color:
Chord grids:
Font size:
Page size:
Login - add to songbook
Richard Thompson Songbook
Richard Thompson Songbook List