It is popular among people to mirror the mobile contents to a larger screen. It allows people to have a big space to enjoy their music, movies, and so on. Before Miracast came out, Apple users are proud of Airplay, which allows wireless streaming between devices of audio, video, device screens, and photos. Unfortunately, Airplay only works between iOS devices. You might not able to mirror iPhone content to smart TV. And now when you use Miracast with iPhone, you can wireless display files on iPhone on any Miracast certificated devices. It should be exciting news for the smartphone users. If you are still confused with connecting Miracast and iPhone, you can find the right answer from the following article.
Part 1: What is Miracast and iPhone Miracast
Miracast is a kind of screen-mirroring tool that allows you broadcast anything from an Android device or recent Intel computer to your TV. The moment it appears in people's field of version, it is not doubt becomes the ideal choice for Android users to use. Whatever you see on your small screen will display on the big screen. What the role does it play in it? It can roughly be described as 'HDMI over Wi-Fi', replacing the cable from the device to the display. That is to say, the technology makes the cable disappear which conveniences people's life. Another question most of people may concern about is which devices can use Miracast? As for receivers, many smart TV that has Miracast functionality built-in can use the service. Also the Android TV devices and a handful of other set-top boxes are compatible with Miracast. Can iPhone use Miracast? Many Apple users, who are looking forward to the iPhone Miracast, are eager to know the answer. It is a pity that iPhone users cannot use Miracast.
Part 2: Miracast Alternative for iPhone
In light of the brand of TVs that the app supports, AirBeamTV is calling it "Mirror for LG TV" as it brings you iPhone and iPad straight into the living room. The app uses new ReplayKit APIs to make this magic possible. You can mirror any app on your iPhone or iPad to your LG TV. This works on any LG Smart TV from the 2012 models onward. In using the app, there will be a couple of seconds of latency (usually between 1 and 3). So this mirroring is not suitable for gaming. New App Store apps called Mirror for Samsung TV and Mirror for LG TV, both developed by AirBeamTV BV, allow you to stream your device's screen wirelessly to compatible smart TVs with ease. Since I have a Samsung Smart TV, this tutorial will focus on it, but you should expect a similar user experience from.
As mentioned before, Apple users only have one way to mirror iPhone to smart TV before the iPhone Miracast comes into play. Thus, knowing how to mirror your iPhone to TV with iPhone Miracast alternative - Airplay is an essential skill for you. And here we show you the detailed guide. Go through the steps below to enjoy the iPhone Content on Apple TV.
1. How to mirror iPhone to Apple TV with AirPlay
Mirror iPhone to Vizio Smart TV with Mobile Mirror. If you're looking for an app that can mirror an iPhone screen to your Vizio TV, then you should consider using AceThinker Mirror. The application is a versatile tool for casting phone screen to PC and vice versa. The app now supports TV too. The tool is super simple to use.
Step 1: Connect your iPhone and Apple TV to the same network.
Step 2: Take you iPhone to open the control center by wiping up from the base.
Step 3: Tap AirPlay icon and then choose your TV form on the list.
Step 4: Enter you AirPlay Password.
Step 5: Adjust your TVs aspect ratio and zoom settings to cover the whole space.
After that, you can enjoy your big screen experience on Apple TV as the iPhone Miracast alternative.
2. How to Mirror iPhone to other Smart TVs with AirServer
Is there any alternative method for Miracast to connect iPhone and Sony TV? If you just have an iPhone and Sony TV, what can you do? Don't worry! Here is another approach to reflect your iPhone on other smart TVs. AirServer is one of the most efficient ways you should take into consideration.
Step 1: Download AirServer on smart TV.
Step 2: Tap AirServer icon from control center on your iPhone by wiping up from the base.
Step 3: Select the smart TV and open Mirroring option. Now the iPhone screen is appearing on Sony TV.
Part 3: How to use Miracast to Mirror device
Since iPhone Miracast is still a mystery, you can use the service to Mirror Android content to Sony TV, LG TV, Samsung TV or more other smart TVs. How to use Miracast with Android to mirror content from Android phone to TV?
There is no doubt that you need a device and a display which are both Miracast-certified. And how do you know whether it is Miracast support or not? Of course you can check it in the product description. Additionally, at a technical level, support for Miracast requires three points: wireless chipset support, operating system support, and driver support. If your device doesn't meet all of these requirements then you'll have to buy a Miracast adapter and upgrade your operating system. Miracast-certified system: Windows 8.1 or Windows 10, Windows Phone 8.1, Android 4.4 or greater, and BlackBerry 10.2.1 or greater.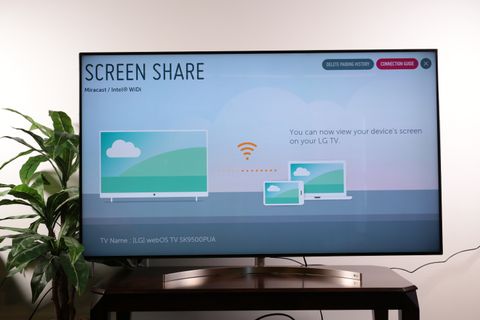 Step 1: Go to setting menu and tap Display icon to choose Wireless display.
Step 2: Open Wireless display at the top of the page by turn the button to ON. After that, your Android phone will scan for nearby Miracast devices.
Step 3: Choose the Miracast adapter. Tap it and your device will connect to the Android phone with Miracast. Sometimes, you may be asked to enter PIN code.
Step 4: After connecting to your adapter, your screen will be mirrored on display without any problem.
Conclusion
Using Miracast on iPhone might be a solution in the near future. And now as an alternative solution, iPhone users still need to rely on AirPlay to sync content to smart TV. Certainly, AirPlay offers us much convenience in our lives especially enrich our experience of enjoying big screen. You can also use the Miracast to mirror content between Miracast-certified systems at the moment. If you have more detail about the information related to Miracast iPhone solution, you can feel free to share them in the comments with us.
Posted by
Lily Stark
to iPhone
Follow @Lily Stark
August 09, 2017 23:35
Top 3 Solutions on How to Connect iPhone to TV

How about connect your iPhone to TV to enjoy your perfect video and movie? Check out the top 3 solutions.

How to Fix Your Running Slow iPhone With Ease

When your iPhone is running slow, you should speed up the iPhone to fix slow iPhone performance without a new iPhone.

How to Sync Fitbit to iPhone to Fix the Issues

What should you do if Fitbit won't sync to your iPhone? Click this post to learn more detail about the solutions to these problems.

How to Fix iPhone Stuck in Headphone Mode

This article provides you with all solutions to solve iPhone 7/ 7 plus/ 6s/6s plus/ 6/ 5s/ 5 stuck on headphone mode.
Sometimes, your iPhone screen is just too small when you watch your favorite movie or playing your best mobile game. Though watching on mobile phones is great, but doing all of them on a TV is much better. Luckily, it is easy to connect your iOS device to any latest TV for a bigger-screen media capability. These days, almost all smartphones and tablets can be plugged into an HDMI-ready TV. Once you are connected, everything that is shown into your mobile phone will also be casted on your smart TV. However, if cables and cords are not your thing, here is our guide on how to mirror iPhone to LG TV.
How to Mirror iPhone to LG TV
ApowerMirror
ApowerMirror is a great desktop application where users are able to cast/display their iPhone's screen to a larger monitor like a PC or a TV. iPhone users are able to share presentations on their classes, seminars or meetings, enjoy watching movies and play mobile games on a wider monitor display. Moreover, this tool lets users to record the screen activities on their mobile phones. This application supports both iOS and Android devices that you can choose freely to connect via USB/lightning cable or via Wi-Fi connection. It also allows users to control the screen of their phone using their mouse and keyboard. Follow the simple steps on how to Mirror iPhone to LG TV to start the mirroring process.
Connect your iPhone to a PC first by downloading, installing, and running the application on both devices.
Launch the application on both iPhone and PC.
Using your iPhone, tap the "M" blue button and choose the name of your PC. Swipe-up to show control center and choose Airplay/Screen Mirroring then tap the name of your PC again.
Once your iPhone has been mirrored to your PC, connect it now to your LG TV by using an HDMI cable. Your iPhone is now mirrored to your LG TV.
LetsView
LetsView is one innovative tool that can mirror any device on a much bigger screen. Because of its great features, it resurfaces among the best apps of its kind. Aside from the mirroring capability, this offers more features like screen recording, screen mirroring and being able to cast your device with any Miracast ready device. That includes Smart, Android TV and some of the networking hardware like FireTV and Roku. Meanwhile, here is a guide written for you to mirror iPhone to LG TV.
Get the app and install it by using the download buttons below.
Make sure your phone is connected to the internet where your TV is connected to.
Launch the app on your phone and TV.
On your phone, tap the icon at upper right that has "asterisk".
Then, enter the pin showing on your TV.
Tap "Start Mirroring" to begin.
Chromecast
Chromecast is one of the best options when it comes in streaming videos and even mirroring your iOS device's screen display to your LG TV. It links and can be controlled with your smartphone by just being connected under the same Wi-Fi network. This will let you open applications or stream videos, display photos, and play games on your phone where you can cast on your TV via Chromecast. To use this tool, you need to plug it into an HDMI socket on your TV. Moreover, a compatible Android device or iOS device installed with the latest version of the app called Google Home is also needed to cast iPhone to LG TV. Here is the steps on how this tool works.
Mirror Iphone Tv Lg Remote
Plug in the Chromecast to your LG TV.
On your iPhone, download the Google Home app. Install and launch it then tap "Set up a New Chromecast".
To connect, tap the "Account" icon on the lower right hand on your phone then choose "Mirror Device" under Additional options. Make sure that both devices are connected under the same Wi-Fi server.
Wait for the device to search your TV then tap "CAST SCREEN/AUDIO". Your iPhone is now mirrored to your TV.
Conclusion
Mirror Iphone To Lg Tv
Those are two of the many possible ways to cast your iPhone to LG TV. You may now enjoy watching movies, sharing photos, and play your favorite mobile games to a larger screen display at home. Both tools offer you fast and easy ways on how to cast iPhone to LG TV, However, ApowerMirror gives you the best quality and features which the other mirroring tools do not possess.
Mirroring Lg Phone To Tv
Related posts: