16000 opera videos FREE for the opera fan.
Gianni Schicchi and the Dark Knight are at first sight an unlikely couple but the booklet explains why they have been linked. Schicchi is now a very popular black comedy but the knight's tale is really grim. The music however is pure Rachmaninov and well worth repeat listening.
by Giacomo Puccini
Gianni is an Italian name (occasionally a surname), a short form of the Italian Giovanni and a cognate of John meaning God is gracious. Gianni is the most common diminutive of Giovanni in Italian.
"Farewell, dear Florence, sublime, enchanted land. I wave goodbye to you, alas, without my hand"
This one-act operais a small masterpiece of comedy from the greatest musical dramatist. Unlike the standard translation, mine follows the original rhyme scheme. This contributes immeasurably to its overall comic effect and entertainment value.
For all but those fluent in Italian, it is impossible to appreciate this opera's subtle wit and deft characterizations unless performed in a faithful, artful English performing translation.
Excerpt:
Lauretta: "O mio babbino caro"
Copyright Kenneth Jakobs 2003 All rights reserved
Notes
First performed in 1918 (at the Metropolitan Opera), just six years before the maestro's death, Gianni Schicchi is Puccini's only comedy, and what a brilliant satire it is. The greedy, snobbish relatives of a rich patriarch, recently deceased, are forced to rely on a "new man", i.e., one from a family with no reputation or wealth, to save them from ruin.
Set at the dawn of the Renaissance, the opera references some of its early masters and patrons, e.g., the Medici and Giotto. Gianni Shicchi is one of operas most lovable rogues, a man with a cunning mind and a taste for larceny. His resourcefulness contrasts with the lack of imagination displayed by the members of the aristocratic Donati family. They despise him for his low birth and coarseness, and are opposed to their young Rinuccio marrying his daughter, Lauretta.
When old Buoso dies, leaving all his possessions to the Church, the disinherited Donatis are desperate and have no idea how they might improve their situation. Though they consider him an inferior, they employ Shicchi to create a new will. This he accomplishes while at the same time managing to secure some of the prime assets for himself and the young lovers. Rinuccio and Lauretta are free to marry, and Schicchi asks the audience to be his jury and exonerate him with their applause.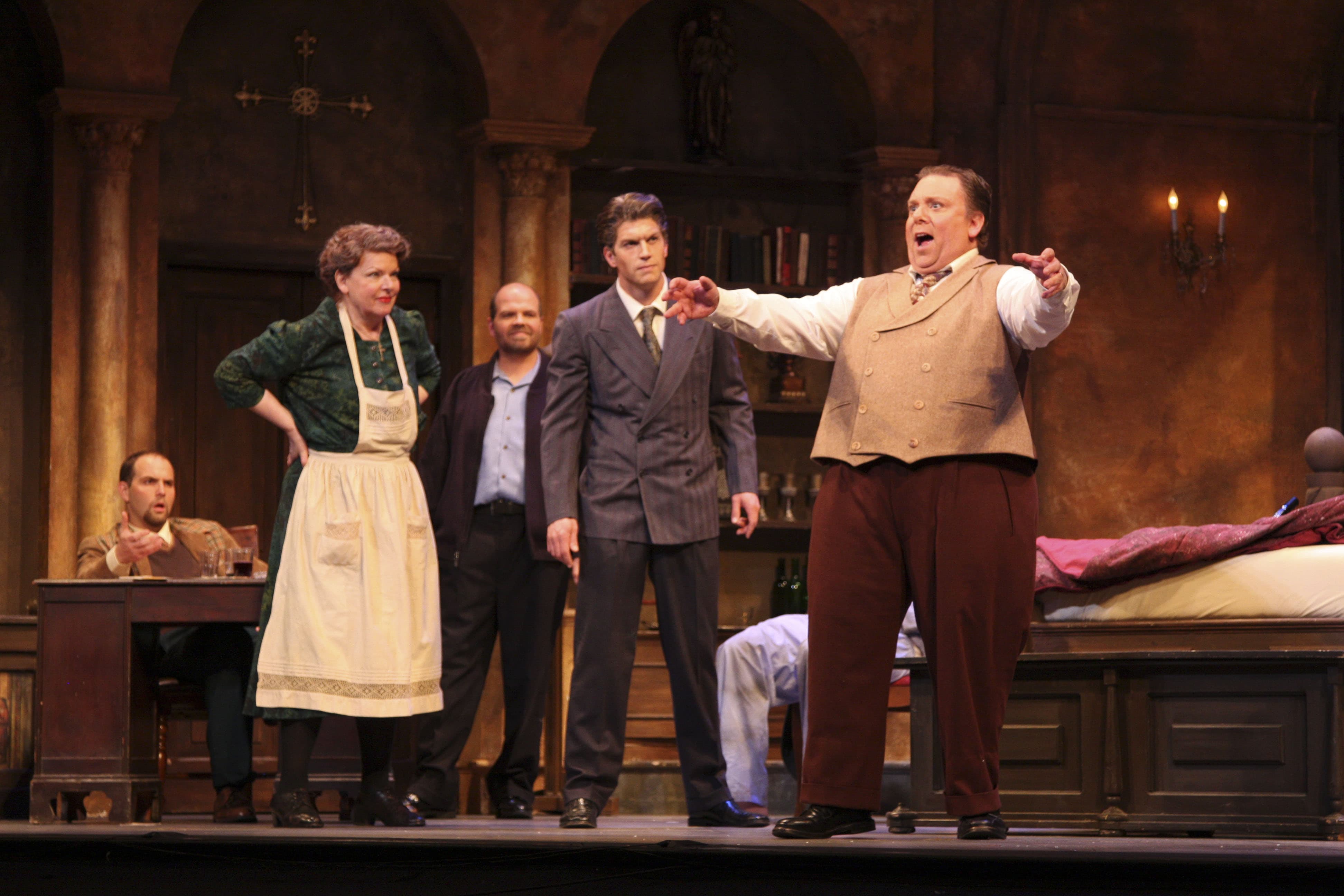 SUOR ANGELICA & GIANNI SCHICCHI
by Giacomo Puccini
At the San Diego Civic Theatre
Presented together for the first time ever by San Diego Opera, two one-acts,
Suor Angelica
and
Gianni Schicchi
make for a perfect Puccini pairing! The heart-breaking
Suor Angelica
, which has never been performed by San Diego Opera, tells the story of a young noblewoman who bears a child out of wedlock and is sent to a convent for penance. A visit from her aunt, The Princess, sets in motion a series of dire actions that ultimately result in tragedy, forgiveness, and peace. In contrast, Puccini's only comedy,
Gianni Schicchi
, is a tale of family dysfunction, human desire and material possession.
Gianni Schicchi
is based on a true story from Dante's Inferno and includes the famous and much-loved aria "O mio babbino caro."
SDO favorite Stephanie Blythe makes a welcome return singing the role of the Principessa in
Suor Angelica
, and makes a daring debut as Gianni Schicchi, a role traditionally sung by a baritone, and in doing so makes opera history. She will be joined by soprano Marina Costa-Jackson performing the title role of Suor Angelica and Lauretta in
Gianni Schicchi
in her Company debut.
Gianni Schicchi Cast
Sung in Italian with projected English translations.
PRE-OPERA LECTURE
Giacomo Puccini Gianni Schicchi
: The pre-opera lecture begins at 6:40pm before the new start time of 7:30pm for evening performances. The Sunday matinee pre-opera lecture begins at 1:10pm before the 2:00pm curtain.
Gianni Schicchi Trio
MAIN STAGE POST-OPERA TALK-BACKS
: Stay after the performance for a Talk-Back. Once the curtain falls, there will be a 10-minute break, then join us back in the theatre in the Dress Circle where you can ask questions of the stars, cast, and find out what really happens onstage and backstage!